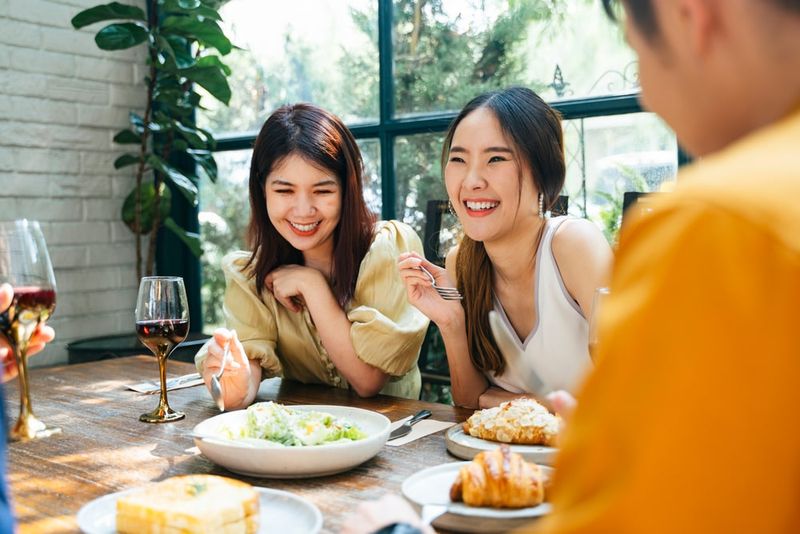 A Review of the Most Chilled Restaurants in the Chidlom Area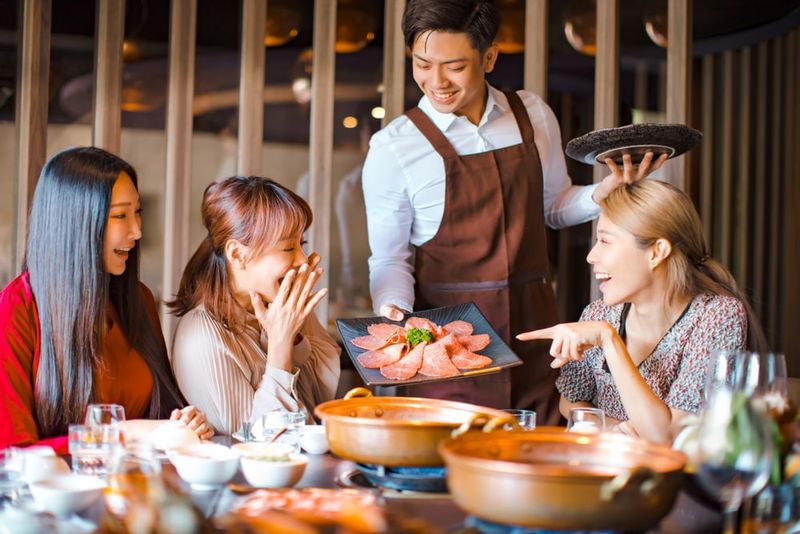 If you want to find restaurants next to the BTS Chidlom to meet up and mingle with a group of friends or take your date for a romantic dinner, we have three delicious restaurants to choose from that are also affordable.
Kagonoya
If you like to eat shabu and love beef, visit Kagonoya, an authentic shabu buffet from Osaka in Japan. There are currently 11 branches in Thailand, one of which is at The Mercury Ville in Chidlom.
The first thing to highlight is the soup selection at Kagonoya, which is available in 4 different styles:
Soba-shoyu broth: this goes well with udon noodles which seep in the delicious broth providing them with a mellow and soupy flavor. When meat boiled in a soba-shoyu broth is dipped in Yushu kosho (yuzu orange peel marinated with Japanese green peppers and salt) and bainiku (marinated plums with a slightly salty flavor), you will get a flavor experience like no other.
Pork bone broth: this is recommended with ramen noodles. Sesame seeds in the broth add a comforting aroma and give an intensely delicious flavor.
Sukiyaki broth: sweet and delicious, served with fresh eggs as a dipping sauce. Blanch the meat until properly cooked, then dip it into the eggs.
Seaweed broth: suitable for blanched pork and noodles. Recommended to eat with ponzu sauce or sesame sauce as this will add aroma to the vegetables and meat.
There is also a seasonal broth for you to try. Currently, this is a YUZU Cannabis Soup-style broth with a sour and salty flavor and the fragrance of yuzu peel.
Meat lovers simply cannot miss the Australian Kagonoya Beef Premium. Although the broth and dipping sauces are outstanding and varied, the high-quality beef and carefully selected premium grade pork are the real heroes. Lastly, it's important to save room for desserts like their ice cream that customers adore.
There are three buffet prices: Standard Shabu Shabu 549++ baht, Premium Shabu Shabu 749++ baht, and Platinum Shabu Shabu 949++ baht. The restaurant is located on the 2nd floor of The Mercury Ville in Chidlom.
Mongkok Sukiyaki
Those bored of Korean food or Japanese Shabu will love Mongkok Sukiyaki, a Hong Kong-style sukiyaki that is sure to please!
The atmosphere at Mongkok Sukiyaki is like taking a trip to Hong Kong. It has Chinese-style decorations similar to a subway station, and it's definitely not your typical sukiyaki restaurant.
As for the soup, Mongkok offers five types to choose from, ranging from seafood broth, bamboo pulp broth, coconut broth, and Mala. As for the sauces, there are also five types, including Ponzu sauce, Jaew sauce, Mala sauce, Seafood Sauce, and Sukiyaki sauce.
Another highlight of this restaurant is that the sukiyaki pot is served in individual hot pots. So, if there are three of you, they will serve three pots, so you don't have to argue about the type of soup you prefer; you can simply choose the way you like it while still being able to sit and eat and talk together.
There are more than 100 items to choose from, including beef, pork, chicken, and seafood. Vegetables and side dishes are also available, and you'll even find some special items like blue crabs and crab eggs.
Finish your meal with a delicious dessert. Choose from lava buns, fruit, cake, mousse, tiramisu, green tea milk, Hong Kong waffles, mango smoothies, and even Haagen Dazs and Magnum ice cream.
The price is a very reasonable 549++ baht per person. Find Mongkok on the 1st floor of The Mercury Ville at Chidlom.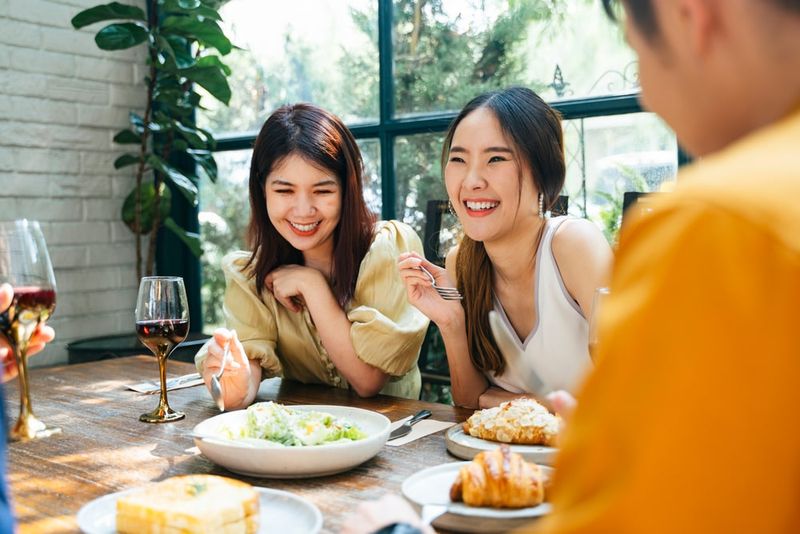 On The Table
This is a Tokyo-themed café serving fusion-style Japanese food with a special menu that can't be found anywhere else.
On The Table is a cute little restaurant serving delicious healthy food. The atmosphere is filled with love, attention to detail, and meticulousness. This makes every On The Table menu item varied and special, with an umami flavor in every dish that you'll fall in love with.
A crowd favorite is the delicious Smoked Salmon Cream Cheese Pizza. Experience the crunch of the thin crust pizza dough with the saltiness of salmon and freshness from the vegetables. When eaten together, they blend perfectly.
Other menu items include Hamburg Curry Gratin, Spaghetti Tom Yum Seafood, Healthy Inari Tofu Don, Spicy Capellini with Soft Shell Crab, and Atomic Bombs. Not only are there delicious savory dishes, but there are also many desserts to choose from, so you can go home with a full and happy tummy.
Recently, On The Table has introduced a plant-based menu, with items such as Crab Meat Watermelon Salad, Capellini Funk with Crab Sauce and Portobello Mushrooms, Spaghetti with Basil and Crispy Pork, and Fried Tofu and Crispy Pork with Salt and Pepper Rice. Check it out on the 1st floor of The Mercury Ville in Chidlom.
Anyone looking for restaurants in the Chidlom area won't be disappointed with a visit to these three gems. Find these and many other delicious restaurants at The Mercury Ville in Chidlom.
share