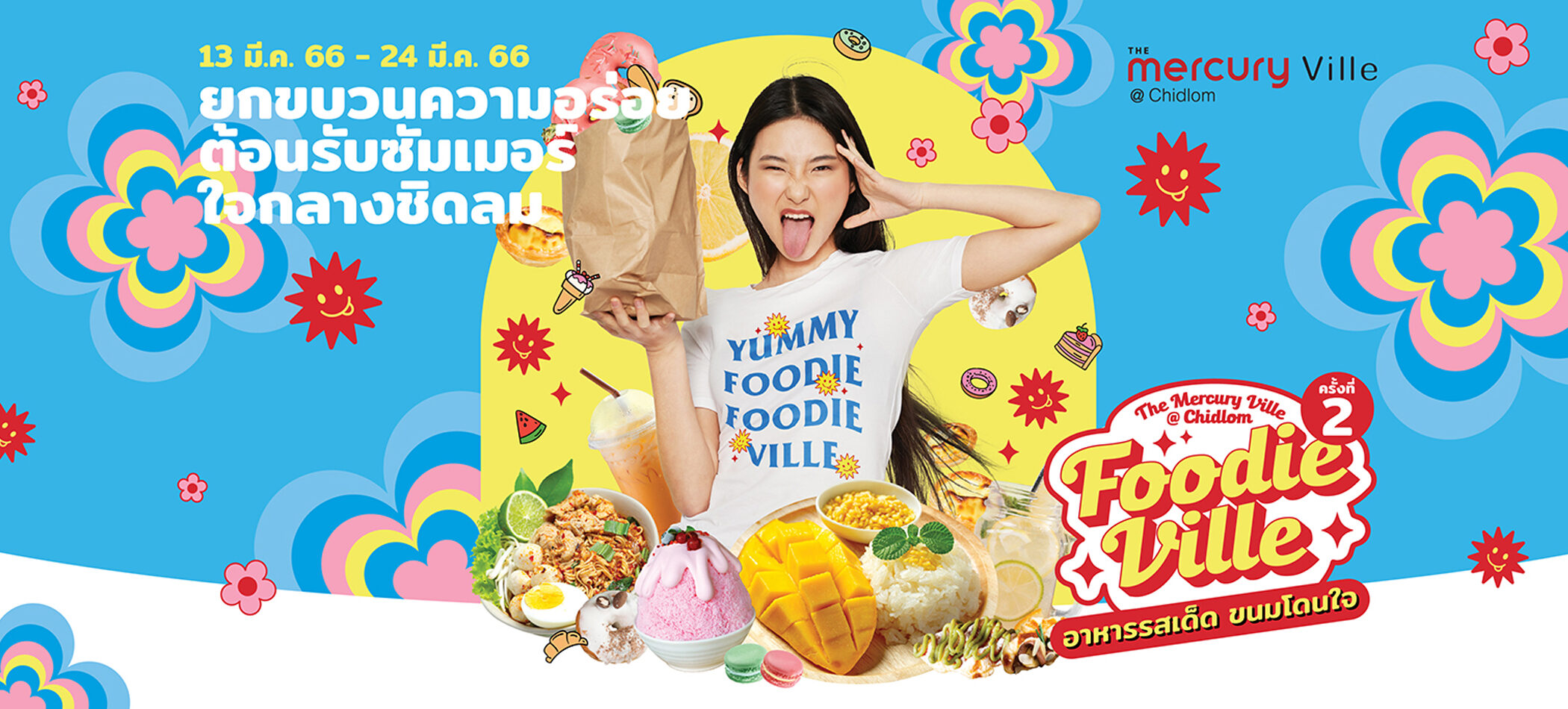 FOODIE VILLE (2nd) at The Mercury Ville @ Chidlom
🍝🧁 The Mercury Ville @ Chidlom invites you to join the "FOODIE VILL (2nd)" food and sweets event, welcoming summer with a delicious parade of Thai street food, international dishes, refreshing drinks, and seasonal fruits. Come and enjoy shopping for tasty treats from famous restaurants and bakeries that cater to your taste buds without worrying about the heat!
💸 Exclusive Offer! Have fun participating in the event activities by becoming friends with The Mercury Ville @ Chidlom LINE Official Account: @themercuryville (https://lin.ee/QF42Aqy). Get a discount of 10 baht* on your purchases in the event.
📌 From March 13th to March 24th 2023.
📍 1st floor, The Mercury Ville @ Chidlom
---
👍 Meet the delicious food parade, such as:
📌 'Kuychai Sap Han': The famous Kuychai egg smashing legend from the food cart in Yaowarat district to the small shop under the Sap Han Bridge that people are familiar with. The crispy Kuychai comes with the aromatic smell of eggs, dipped in sweet and sour sauce. There are also various types of Kuychai, including steamed and fried fillings.
📌 'Kha Moo Ngam Wongwan': Simmered with 12 secret herbs and spices of the restaurant, the soft and tender pork leg dissolves in the mouth and is so delicious that you forget to count the calories. Served with pickled vegetables, garlic, and a special spicy dipping sauce that is irresistibly tasty.
📌 'Baan Seua Hiu' (Hungry Tiger): The beef lover's paradise, where you can taste the fusion-style beef dishes inspired by Thai, Japanese, and Western cuisine. The aromatic and flavorful Australian beef fried rice with garlic is a must-try.
📌 'Yoo Dee Mee Suk Khao Niao Mamuang' (Mango with sticky rice): The famous Thai dessert of sticky rice with ripe golden mango is made from premium quality glutinous rice from Thailand with a chewy and delicious texture.
📌 'Kanom': The social media-famous egg tart sweets shop with a special recipe from Kanom bakery that has captured the hearts of Thai people. The bakery also offers fresh and newly baked products every day, including the famous Hong Kong-style pineapple bun, which has been popular and renowned for over 10 years.
📌 'MAMA Station': MAMA instant noodles have been familiar to everyone for years. The upgraded version comes with more noodles and a stronger and richer flavor.
📌 "MIDNIGHT A COCOA": Expect a strong cocoa flavor at Midnight A Cocoa, a small-yet-famous cocoa shop that has captured the hearts of people for 7 years with its three levels of intensity to choose from: Goodnight, Midnight, and Darknight. Adding whipped cream makes it even more enjoyable than ever before.
📌 "SO DOUGH": A famous homemade doughnut that carefully selects ingredients to make the dough soft and tender, mixed with fine icing sugar. It is a special recipe of the shop that can be enjoyed with various dipping sauces such as thick Hokkaido milk sauce, strawberry sauce, chocolate sauce, Thai tea sauce, pandan sauce, brown sugar sauce, or simply on its own.
---
* The promotion is limited and based on a first come, first-served basis. The Mercury Ville @ Chidlom reserves the right to amend the conditions, terms, requirements, periods, and/or benefits, and may cancel this promotion without prior notice. In the event of a dispute, the judgment of The Mercury Ville @ Chidlom or its subsidiaries is deemed final.
share